Display window viewable at night – with out fear of burglary or vandals
Able Nightview security roller shutter AS21, when you need high physical security out of hours – but need your shop window display viewable at night. Perforated laths/slats for visibility.
Features: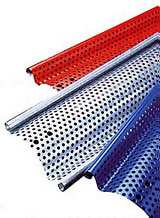 High security – wall to wall protection for small to large openings
Backlighting – shop window display highly visible at night
Custom made – to fit perfectly
Easy roll up roll down
Fabricated from galvanised steel – weather and rust proof
Low maintenance
Fast,efficient trouble free installation by our experienced fixing engineers
12 month fully inclusive warrantee – 24 months on optional electric motors
Free quotations – call 020 8885 5332
Able nightview security shutters are constructed from galvanised steel, the laths/slats 75mm curved, either in 20 or 22 gauge thick depending on space/span to be covered – interlocked to provide solid physical protection against vandals,theft, mounted with a 3mm thick galvanised sections which are securely connected to the building, supported by a counter balanced roller spring mechanism or optional electric motor housing designed to last and be maintenance free.
Nightview security shutter options:
Manual or motorised
Standard colour silver or choice of 100's of B.S and RAL colours
Laths/slats 20 or 22 gauge thick for added strength and wide spans
Choice of locking including bullet-pin, centre lock, padlock
Externally fitted or built in
To blend in with existing frontage
For a FREE no obligation quotation please call Able on 020 8885 5332 or complete the online enquiry form